Perfect Portion Petite Dessert Pan
A Better Way to Bake and Portion Desserts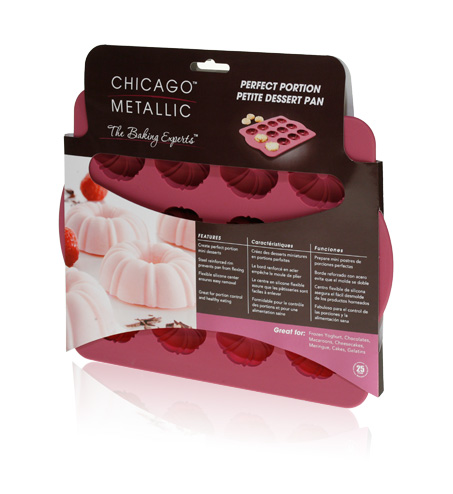 The Problem:
Baking desserts can be a messy, frustrating task. The treats often bake unevenly and can be difficult to remove from a metal pan without crumbling. In addition, most traditional baking pans have large dessert molds, which can result in too much of a good thing, and too many inches on the waistline!
Davison's Better Way:
We created the Perfect Portion Petite Dessert Pan for a client who originally wanted an easier way to bake uniform and chewy-edged brownies. Following upon that product's success, the client's idea has been expanded into an entire line of silicone bakeware to create a variety of treats. The Perfect Portion Petite Dessert Pan is designed to create desserts in healthier portion sizes. The pan, which also can be used for chilling or freezing, has smaller-sized cavities that encourage portion control and healthier eating. The 12 flexible cavities "pop out" the finished, molded desserts, and indentations on the tops provide space for fillings or toppings. In addition, the dishwasher-safe product has an interior metal rim and extended handles that provide stability and reinforcement in transport.
Featured in the following stores:


Bed Bath & Beyond
Stuff 4 Crafts
HSN
Supermart
BenFranklin.com
Arts Crafts USA
Cool Stuff for the Kitchen
Roberts Arts & Crafts
Amazon.com
DTY Direct
Denver Fabrics
Fashion Fabrics Club
Dollar Days
Chicago Metallic
Stuff for Scrapbooking
Tea With Grace
Other Davison designed Silicone Dessert Pan products:
These products are extensions of a previously developed product line for which the client has received a net profit. A typical project does not get a royalty agreement, sell in stores or generate a profit.