Citrus Pro
A Better Way to Add a Citrus Zest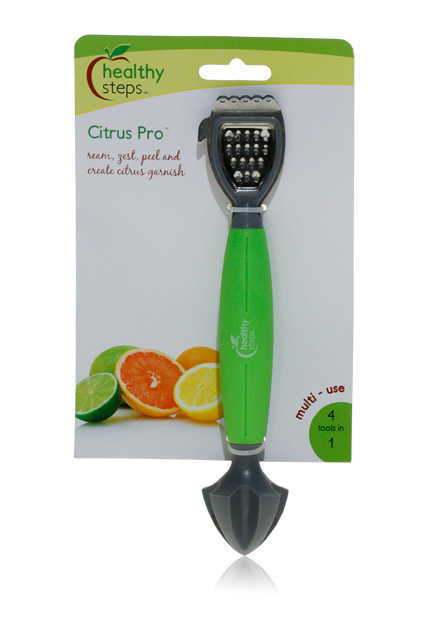 The Problem:
Adding citrus fruit in recipes can be a great way to enhance flavor and nutrients. Vitamin C found in citrus helps keep teeth and gums healthy and is vital in the growth and repair of body tissues. Preparing citrus, however, can be a tedious and time-consuming task and can require the use of several different tools.
Davison's Better Way:
The multifunctional Healthy Steps Citrus Pro makes it easy to prepare citrus fruit in a variety of ways. This feature packed tool reams, zests, peels, and creates decorative garnishes with ease, speeding up prep time in the kitchen and saving valuable storage space when not in use. In addition, using one tool means you only have to wash one tool, saving even more time!
Featured in the following stores:

Casa
Tools2Parts.com
Delights Ville
Hbees
Delice Ville
Remodelr
Outdoor Pro
Plumber Surplus
Farm & Home Supply Center
Specialty Gourmet Goodies
Givemart
Micha Kitchen
Buy Zone
Antares Pro
Dollar Days
Lucky Vitamin
Amazon.com
Taylor Gifts
Organize.com
Bon Cui
Grab Cart
Picnic World
Yohiba
This is a corporate invention and the same 9-step Davison Inventing Method is used to develop each idea, for idea people who work with us on their ideas or corporations that ask us to invent for them.