Cheese Grater
A Better Way to Serve "Grate" Portions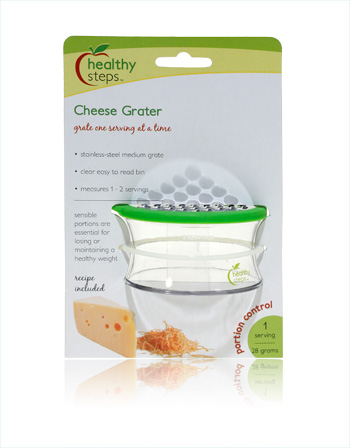 The Problem:
People don't usually know how to portion their food in healthy amounts when cooking and serving. Cheese is frequently over used, adding extra calories and saturated fats to foods. Standard cheese graters are often cumbersome and messy, and the user can't immediately see the amount being grated.
Davison's Better Way:
The Healthy Steps Cheese Grater provides an easy way to grate and measure one serving at a time to help control portion sizes. The clear bin captures the cheese and allows you to easily view the amount inside. Simply fill the hopper to the first line for one serving of cheese, or fill it full of cheese for two servings, then lift the lid to dispense the cheese.
Featured in the following stores:

Lucky Vitamin
Dollar Days
Joss and Main
Bed Bath & Beyond
Amazon.com
Organize.com
Starcrest California
Giant
Picnic World
Taylor Gifts
Central Chef
Bon Cui
Grab Cart
Gizar.com
Yohiba
The Westview Shop
Tools2Parts
Creative Home and Gardening
Shopping Warehouse
Home Gardens & Outdoors
Delice Ville
Remodelr
Plumber Surplus
Outdoor Pros
This is a corporate invention and the same 9-step Davison Inventing Method is used to develop each idea, for idea people who work with us on their ideas or corporations that ask us to invent for them.