Medium Cookie Sheet – Mrs. Fields
A Better Way to Bake Perfect Cookies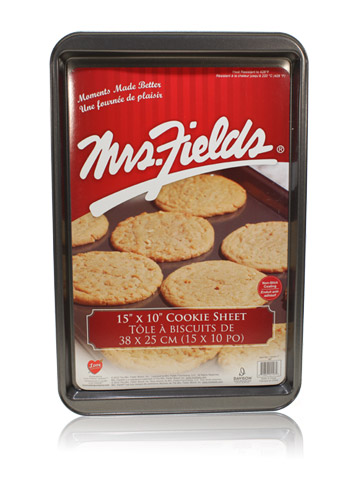 The Problem:
Mixing up a great batch of cookie dough isn't always easy, but when you do, you need your cookie sheet to help them bake just right. Many cookie sheets unevenly bake cookies or leave burnt edges stuck to the pan when you're trying to take them off to cool.
Davison's Better Way:
Packaging was designed for the Mrs. Fields Medium Cookie Sheet to communicate the benefits of this pan that's perfect for everyday bakers who want to make sure their kitchen creations turn our perfectly. The pan's non-stick carbon steel coating ensures easy removal and cooling for any batch of cookies.
Featured in the following stores:

Robertscraft
Craft e corner
Sears
This package design was invented and licensed by Davison for its own benefit.