Hot / Cold Therapy Brace for Wrists
A Better Way To Sooth Wrist Pain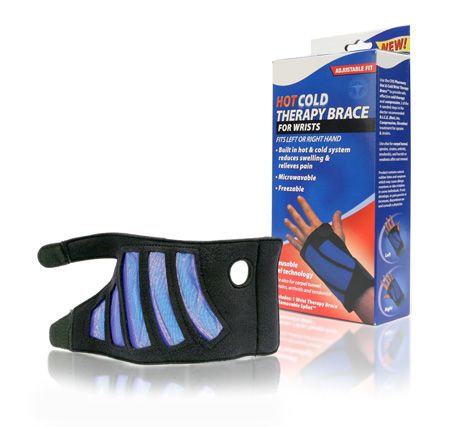 The Problem:
Anyone who suffers from carpal tunnel or has ever had a wrist injury knows the difficulty of finding a product that offers support as well as pain relief. Most people end up awkwardly taping an ice pack around their hand, limiting their ability to perform day-to-day activities.
Davison's Better Way:
We took our client's idea for such a product and combined it with our expertise to create the Hot / Cold Therapy Brace for wrists. It offers consumers full 360-degree therapy and joint support with a built-in gel system designed specifically to reduce swelling and relieve pain. It is freezable and microwaveable, depending on the user's needs, and its reversible design allows for use on the left or right hand. Plus, it attaches quickly and effectively with hook-and-loop fasteners.
The client has made a profit on this product. A typical project does not get a royalty agreement, sell in stores or generate a profit.