Oil Filter Gripper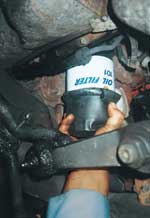 If you have ever changed the oil in your car, you can appreciate this invention. The gentleman who came up with this idea was tired of the hassle associated with changing his oil every three months. He hated struggling and getting drenched in oil every time he tried to loosen the filter.
He hired Davison to develop the perfect solution called the Oil Filter Gripper. Through our exclusive development process, we produced the product and package design. We won an Industrial Design Society of America award for this product, and were featured in BusinessWeek magazine.
This client has realized a profit on this product. A typical project does not get a royalty agreement, sell in stores or generate a profit.