Goggleflauge™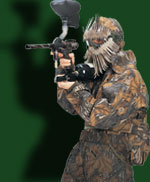 Davison's founder, Mr. Davison, a world famous paintball player and a member of the All-American Paintball Team, came up with this groundbreaking idea. Mr. Davison recognized that in paintball, players frequently target their opponents' heads and goggles. Gogglefauge™, a patented product (US Patent # 5652963), breaks up the outline of the head, making it more difficult for an opponent to target.
Goggleflauge™ was developed through the same exclusive development process that Davison uses for every product it designs for clients and corporations
This client has realized a profit on this product. A typical project does not get a royalty agreement, sell in stores or generate a profit.