Licensed Products
Quick Cut
A Better Way to Make the Cut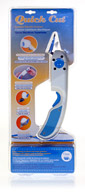 Look for the "D" on the back of the package.
The Problem:
Crafters and sewing enthusiasts often get sore, tired hands and fingers from frequent use of conventional scissors, especially when cutting stiff materials or detailed applications. Using ordinary scissors is also time consuming and can result in a crooked cut.
Davison's Better Way:
We developed the Quick Cut electric scissors to provide a more convenient and precise cutting tool. The product is for detailed, intricate cutting of a variety of fabrics, as well as plastic, cardboard and other materials. It features two interchangeable blades that snap on and off easily and an LED light for enhanced visibility. The ergonomic, soft grip is for both right and left handed use. The product can be powered by batteries for cordless operation or with an included AC adapter cord. The package, which bears the Davison "D", is sized for optimum display.
Featured in the following store:
Joann Fabric and Craft Stores
Other Davison Designed Sewing Products:
This client has realized a profit on this product. A typical project does not get a royalty agreement, sell in stores or generate a profit.