Water Rocket
A Better Way To Have A Blast In The Pool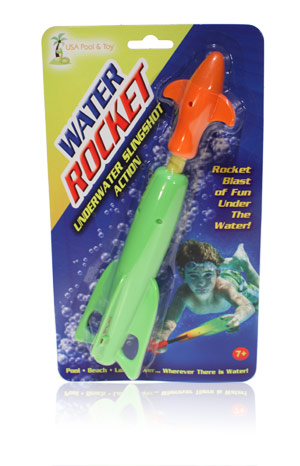 The Problem:
We all love fun in the sun and enjoy a refreshing dip in the pool, but you can only dive for rings for so long, catch some sun on foam floaties until you begin to burn and imagine with inflatable animals until they begin to talk back to you! One of our clients noticed that underwater toys hadn't really changed in quite some time, so he took matters into his own hands.
Davison's Better Way:
For underwater fun that lasts for hours, our team developed a versatile pool toy that truly propels the fun! Great in the pool, at the beach or wherever there is water, the Water Rocket packs an exciting blast with every splash! By simply inserting your fingers through holes in the rocket's tail and releasing underwater, the innovative toy slingshots into action! With safety at heart, the rocket also contains a water-activated safety lock.
Featured in the following stores:
Swim Outlet
Fat Brain Toys
Things You Never Knew
Closeout Zone
New Cool Toys Online
This is a corporate invention and the same 9-step Davison Inventing Method is used to develop each idea, for idea people who work with us on their ideas or corporations that ask us to invent for them.