Slider Maker
A Better Way to Make Sliders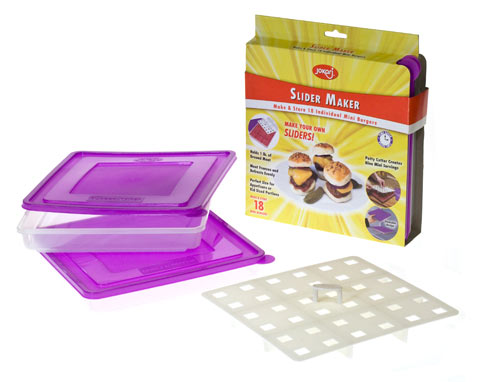 The Problem:
Sliders, or mini-burgers, are great for parties or smaller appetites, but buying them ready-made can get expensive, and making your own by hand is messy and time-consuming. Freezing them for future use often results in freezer burn and uneven defrosting of the meat, which can lead to a burger that is burned on the outside and raw on the inside.
Davison's Better Way:
With the Slider Maker you can easily make your own sliders at home! Simply place 1 pound of ground meat into one of the two included trays and use the patty cutter to cut the meat into nine evenly sized square mini-burgers. Snap the lid on and freeze your patties until needed or season and cook immediately. Your meat will freeze and defrost evenly and you'll never have to form hamburger patties again. Cooking and clean-up are just as easy because the container is safe for the microwave and dishwasher.
Featured in the following stores:

Shopping Warehouse
Kitchen Kapers
Timeless Home Decors
Better Homes & Garden
Current Catalog
Amazon.com
Builder Depot
Organize.com
Ginny's
Kitchen Haven
Home Visions
Main Street Kitchen Store
Aliham's Gift Outlet
CureSome
Whispering Wind Clearance
Bon Cui
Taylor Gifts
As-Seen-On-TV-Products
Home Product Sales
Picnic World
As Seen On TV Junkies
Gourmet Warehouse
Chef's Mercantile
IP Mart
Learning & Education
Grab Cart
TiraMart
Kitchens on the Square
DiscountCooking.com
Space Savers
The Kitchen Outlet
The Compleat Gourmet
Richard's Variety Store
EggShells Kitchen Company
Unbeatable Sale
Get It On TV
Colonial Medical
TheStorageStore.com
Raymond & Co
This is a corporate invention and the same 9-step Davison Inventing Method is used to develop each idea, for idea people who work with us on their ideas or corporations that ask us to invent for them.