Ice Cream Scoop
A Better Way to Control Ice Cream Portions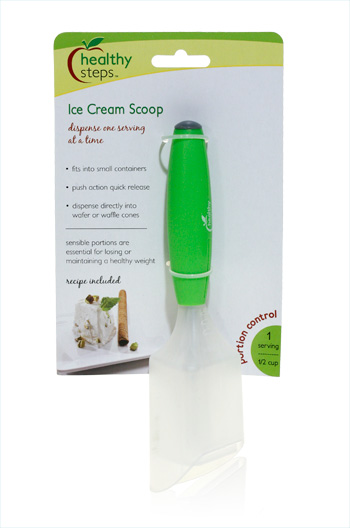 The Problem:
People don't usually know how to portion their food in healthy amounts when cooking and serving. Although ice cream is a favorite treat, too much ice cream can destroy even the best diet regimens, and it can be difficult to control portion sizes.
Davison's Better Way:
The Healthy Steps Ice Cream Scoop makes it easier to eat healthily. The product dispenses one sensible serving at a time, and the push action handle makes it easy to fill a wafer or waffle cone. Simply scoop and dispense two times for a perfect portion of your favorite ice cream. No calorie counting needed!
Featured in the following stores:

Amazon.com
Organize.com
Hbees
Delice Ville
Remodelr
PlumberSurplus
Appeal Deals
Delights Ville
Kitchen Busy
Buy Zone
Giant
Picnic World
Taylor Gifts
Central Chef
Kitchens on the Square
Bon Cui
Gracious Home
Grab Cart
Gizar.com
This is a corporate invention and the same 9-step Davison Inventing Method is used to develop each idea, for idea people who work with us on their ideas or corporations that ask us to invent for them.