Flavor Savers
A Better Way to Save Flavor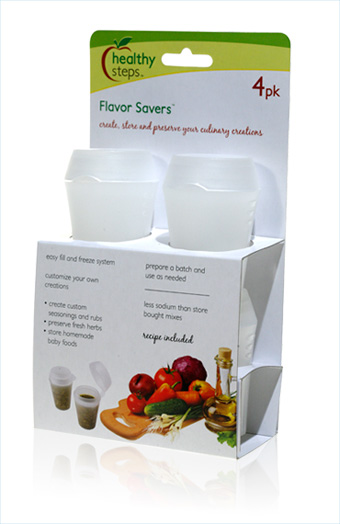 The Problem:
Store bought mixes contain loads of sodium and preservatives, but creating and storing a variety of custom seasonings at home can be difficult.
Davison's Better Way:
The Healthy Steps Flavor Savers makes it easier to eat healthily. With the four-pack Flavor Savers, you can save money and reap the health benefits of creating your own cooking flavorings with healthy ingredients at home. The included erasable label allows date and ingredients to be seen at a glance.
Featured in the following stores:

Hbees
Shopping Warehouse
Tools2Parts
Delights Ville
Remodelr
Plumber Surplus
Delice Ville
Outdoor Pros
Creative Home & Gardening
Antares Pro
Farm & Home Supply Center
Just For Farms
Just For Construction
Just for Camping
Givemart
Specialty Gourmet Goodies
Micha Kitchen
Lucky Vitamin
Dollar Days
Amazon.com
Starcrest California
Picnic World
Organize-It
Organize.com
Central Chef
Bon Cui
Grab Cart
Gizar.com
Yohiba
This is a corporate invention and the same 9-step Davison Inventing Method is used to develop each idea, for idea people who work with us on their ideas or corporations that ask us to invent for them.