Butter Pro
A Better Way To Portion and Serve Butter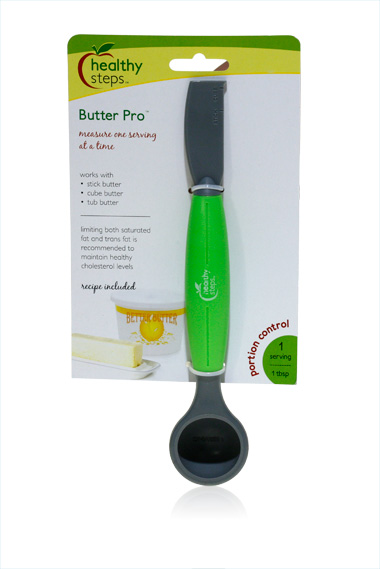 The Problem:
People don't usually know how to portion their food in healthy amounts when cooking and serving. Butter, whether served in a tub or a stick, is frequently over used, adding empty calories and saturated fat to foods.
Davison's Better Way:
The Healthy Steps Butter Pro provides an easy way to measure healthy servings of butter. The product has a flex spoon that scoops butter from a tub, dispensing 1 tablespoon at a time, as well as a knife with notches that measures and cuts 1 tablespoon from a stick or cube of butter. The unit is also top rack dishwasher safe for easy clean up.
Featured in the following stores:

Dollar Days
Amazon.com
Organize.com
Taylor Gifts
Giant
Starcrest California
Central Chef
Bon Cui
Grab Cart
Gold Violin
Picnic World
Gizar.com
Creative Home & Gardening
Delice Ville
Outdoor Pros
Remodelr
Home Garden & Outdoors
Plumber Surplus
Rock Bottom Deals
Just For Construction
This is a corporate invention and the same 9-step Davison Inventing Method is used to develop each idea, for idea people who work with us on their ideas or corporations that ask us to invent for them.