Burger Maker
A Better Way to Make a Burger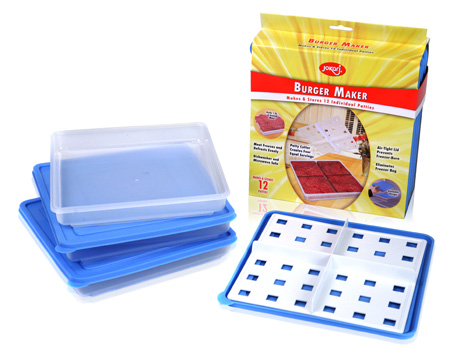 The Problem:
Making hamburger patties by hand is a messy, time-consuming task. Freezing them for future use often results in freezer burn and uneven defrosting of the meat, which can lead to a burger that is burned on the outside and raw on the inside. That is not only unappetizing but a real health hazard.
Davison's Better Way:
Davison developed the Burger Maker to make and store hamburger patties quickly and easily while eliminating freezer burn and uneven defrosting. Its compact design features a patty cutter that creates four equal servings with one downward push onto a pound of ground meat. The patties can be frozen in the same air-tight container, eliminating the need for messy freezer bags, and the containers are stackable, making it possible to store 12 patties in a small space. Cooking and clean-up are just as easy because the container is safe for the microwave and dishwasher.
Featured in the following stores:

Organize.com
Shopping Warehouse
Kitchen Kapers
Amazon.com
Taylor Gifts
Current Catalog
Football Grill Time
Bedding.com
Get it on TV.com
Get Organized
Walnut Creek Cheese
B's Merchantile
Raymond & Co
Bon Cui
Grab Cart
Picnic World
This is a corporate invention and the same 9-step Davison Inventing Method is used to develop each idea, for idea people who work with us on their ideas or corporations that ask us to invent for them.