Small Cutting Board – Love Cooking
A Better Way to Make the Cut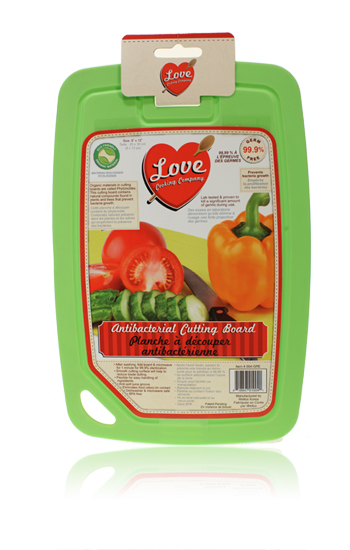 The Problem:
Cutting boards are some of the dirtiest things in the kitchen. When you're preparing a meal, sometimes it's hard to avoid cutting the meat and vegetables on the same board. But, how can you make sure you are not contaminating your food or spreading dangerous germs?
Davison's Better Way:
We designed the Small Antibacterial Cutting Board to help prevent cross-contamination. It's constructed of eco-friendly materials and has been lab-tested to kill germs. The Small Antibacterial Cutting Board will even roll up, lock and sterilize in the microwave. The anti-spill groove is an added bonus for cooks interested in taking their food straight from the board to the pot.
Featured in the following stores:


Amazon
Shop.com
Midwestscrapbook.com
Kmart
Office Super Savers
This is a corporate invention and the same 9-step Davison Inventing Method is used to develop each idea, for idea people who work with us on their ideas or corporations that ask us to invent for them.