Garment Rack
A Better Way To Maximize Closet Space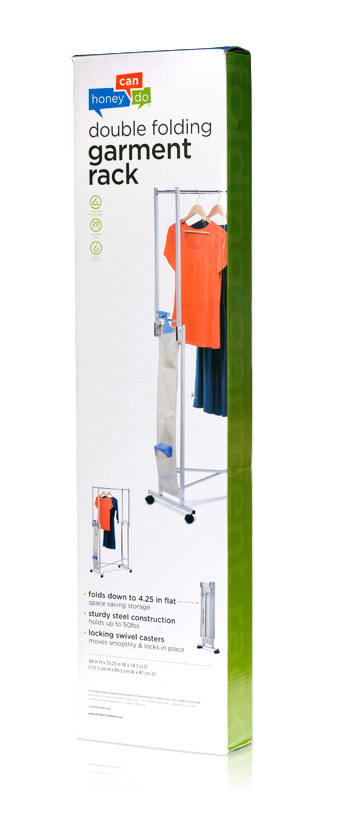 The Problem:
Storing hanged garments neatly when there is not enough closet space available is a common problem. And finding enough space to neatly hang the coats and clothing of house guests can be next to impossible.
Davison's Better Way:
We created the Garment Rack to provide an easy solution for storing hanged garments anywhere. The steel, double folding rack fits easily in tight spaces, and it has the added feature of side pockets to hold gloves or laundry supplies. The unit folds twice so it also can be stored compactly. That feature makes the product very attractive to retailers, as they can fit twice as many units on a store shelf. We licensed the product to one of the largest manufacturers of laundry and organizational items.
Featured in the following stores:



Staples
Bazargin
Amazon.com
Home Depot
Brookstone
Taylor Gifts
Get Organized
Organize World
WalMart
Travel Bags Mall
This is a corporate invention and the same 9-step Davison Inventing Method is used to develop each idea, for idea people who work with us on their ideas or corporations that ask us to invent for them.