Flip Flop Rack
A Better Way To Organize Flip Flops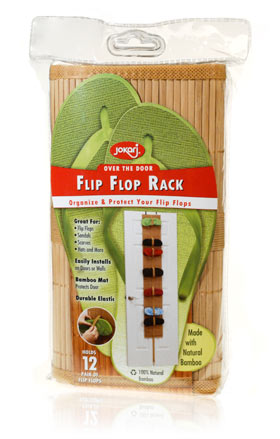 The Problem:
People who wear flip flops often have quite a collection, even a pair to match every outfit and bathing suit. Trying to find a matching pair quickly, however, can be difficult and time consuming. Often, they are in messy pile in the base of a closet or stuffed under a bed.
Davison's Better Way:
Davison designed the Flip Flop Rack to provide an easy, convenient method of organizing flip flops. The stylish rack keeps 12 pairs of flip flops or sandals, as well as scarves, hats and other items, neatly organized and protected. The highly portable rack installs quickly on a door or wall, and the soft, durable elastic straps hold the items snugly in place. In addition, it is made of 100% natural bamboo, which is attractive and environmentally friendly!
Featured in the following stores:
As Seen On TV Junkies
Stack n Rack
The Team Store
Lillian Vernon
Camping Gear Outlet
Picnic World
Linens N Things
Hold 'n Storage
Space Savers
Organize.com
Solutions
This is a corporate invention and the same 9-step Davison Inventing Method is used to develop each idea, for idea people who work with us on their ideas or corporations that ask us to invent for them.