Dorm Rack
A Better Way to Organize Your Dorm Room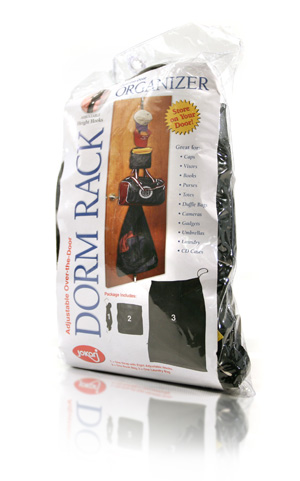 The Problem:
Finding enough space to store a student's personal belongings in a small college dorm room can be a real challenge. Wouldn't it be nice to have a way to add more storage space to a room and hold items in an organized fashion? Now there is.
Davison's Better Way:
Building on the success of the Cap Rack, Purse Rack and Adjust-A-Hooks organizational systems, Davison designed the Dorm Rack. With this over-the-door product, a college student can easily store clothing, accessories and many other items. We added an eight-hook adjustable mechanism, a bookbag and a laundry bag to make the product as versatile as possible.
This is a corporate invention and the same 9-step Davison Inventing Method is used to develop each idea, for idea people who work with us on their ideas or corporations that ask us to invent for them.