24-Cup Mini Muffin Pan – Mrs. Fields
A Better Way to Bake Bite-Sized Treats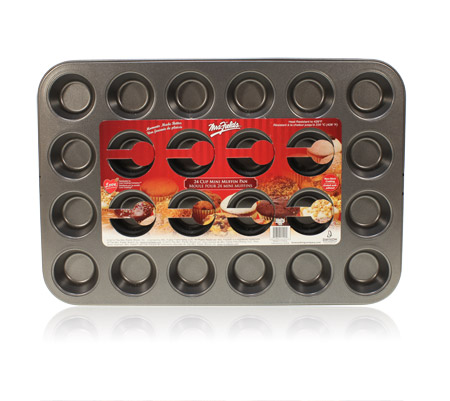 The Problem:
Traditional cupcake pans are great, but what if you want to make bite-size morsels for your family and friends? Most mini-cupcake pans only bake 12 cupcakes at a time, which makes for a long day in the kitchen.
Davison's Better Way:
Not only did we design a larger mini-cupcake pan, but we used a non-stick carbon steel, so it is easy for anyone to bake cupcakes or muffins with no mess. Mrs. Fields 24 Cup Mini Cupcake Pan is suitable for temperatures up to 428˚F and enables bakers to make bite-sized treats in no time.
Featured in the following stores:


Amazon
Pricefalls
Sears
Office Super Savers
boncui
Craft E Corner
This is a corporate invention and the same 9-step Davison Inventing Method is used to develop each idea, for idea people who work with us on their ideas or corporations that ask us to invent for them.