Inshield Wiper
A Better Way to Keep it Clean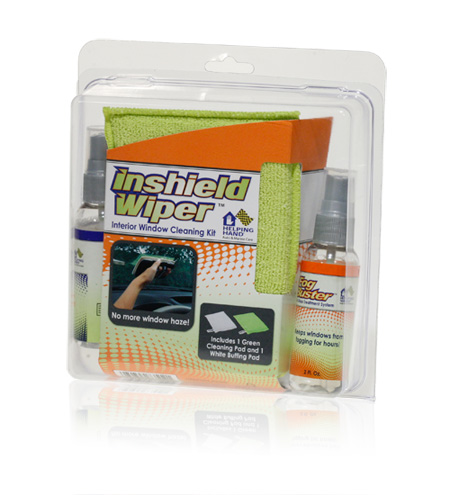 The Problem:
Thoroughly cleaning the interior of a vehicle's windows, and keeping them clean, is a difficult task. Wiping the windows by hand with a cloth can be a strain, requiring an uncomfortable turning of the wrist to reach all areas. And no matter how long you wipe them, the windows often turn out streaky and fog up easily.
Davison's Better Way:
We developed the Inshield Wiper for a client who wanted an easy way to thoroughly clean the interior of a vehicle's windows. We licensed the product to Faucet Queen, which added it to its Helping Hand line and packaged the product with a cleaner and defogger. The kit includes a cleaning pad, a buffing pad that attach to an applicator via Velcro. The unit fits on the back of the hand and is held in place with elastic straps, giving the user easier access to sloping windshields. With the wrist and hand in a more natural position, the user can do a better job of cleaning the inside windshield and back window.
Featured in the following stores:
This client has not realized a profit on this product. A typical project does not get a royalty agreement, sell in stores or generate a profit.