Pollster 2016
A Better Way to be Educated about Elections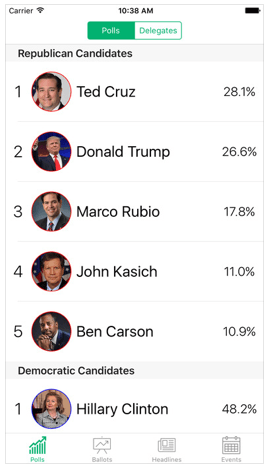 The Problem:
With so many news sources, campaign ads and social media options out there, it can be hard to keep the facts straight about candidates during an election. But, it is important to stay informed about the polls and election headlines.
Davison's Better Way:
At Davison, we came up with an app idea that would help everyone from Pennsylvania to Puerto Rico to stay informed about upcoming elections. We created the Pollster app to provide everything from candidate biographies, news and tweets to poll statistics, delegate counts and even world news headlines – all in one place. So, instead of having to watch the news, check social media and search for poll results, voters can find all the election information they need instantly with the Pollster app.
Featured in the following stores:
The Davison team was hired to create this app. We were not hired to market, promote or attempt to generate profit for the client. The client has not profited from this product.