What is Licensing?
Licensing is business arrangement which allows one company to manufacture an inventor's product for a specified payment.

Licensing allows an inventor to leverage existing distribution, production and marketing systems that have been developed and perfected over many years.
The inventors receive a percentage of the revenue generated from the products sold under their license. This is called a licensing fee.
Corporations rely on reputable companies who have the know-how and ability to produce manufacture-ready products that can be licensed to retailers and online stores.
For 25 years, Davison Inventing has been paving the way for inventors to turn their ideas into products and present them to corporations for licensing opportunities.
What is the Next Step?
The next step is your decision. We encourage you to get a free info packet, complete our Idea Security Agreement, or submit your idea.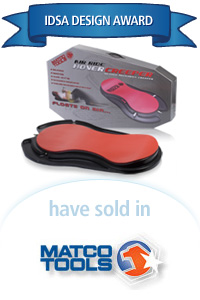 A Licensed Product
We eliminated the most expensive and breakage-prone parts, the wheels and casters, and replaced them with air by incorporating a compressed air bladder. Instead of trying to roll over an uneven or cracked garage floor, the new Hover Creeper literally hovers slightly above it. To use, the mechanic plugs in the creeper, lies down on the ergonomic pad and glides under the car.