Water Infuser
A Better Way to Flavor Tea and Water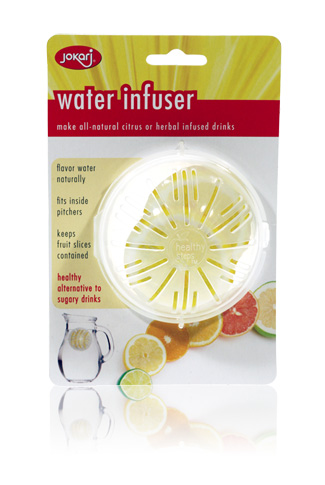 The Problem:
Drinking plenty of water is essential to maintaining optimum health and fitness. But many people find it difficult to drink the recommended eight 8-ounce glasses a day because they find the taste of water to be unappealing, or just plain boring. Bottled, flavored waters are expensive, however, and they often contain high levels of sugar and other unhealthy ingredients.
Davison's Better Way:
We created the Healthy Steps Water Infuser for a company that wanted to offer a healthy and inexpensive alternative to sodas, sugary fruit drinks and bottled water. The product makes it easy to prepare all-natural infused water or tea at home. To use, open the hinged infuser ball and insert pieces of fruit, vegetables and herbs, such as lemon, lime, cucumber, strawberries, cherries or mint. Close the sphere, place in a pitcher of water or tea let it sit for 30 minutes prior to drinking. Through small openings in the plastic, the water or tea is infused with fresh, natural flavors. The infuser ball keeps fruit slices contained and pulp out of drinks, and the dishwasher safe unit fits inside most pitchers.
Featured in the following stores:

Outdoor Pros
Farm & Home Supply
Plumber Surplus
Givemart
Buy Zone
Micha Kitchen
Dollar Days
Crate & Barrel
Amazon.com
Raymond & Co.
Taylor Gifts
The Kitchen Outlet
Gracious Home
Grab Cart
Prairie Moon
Kitchen Spice
Kitchen Window
Organize World
The Westview Shop
Tools2Parts
Delights Ville
Hbees
Creative Home & Gardening
Delice Ville
Home Garden & Outdoors
Shopping Warehouse
Remodelr
Colonial Medical Devices
Home Doo Dads
Organize.com
The Kitchen Clique
The Kitchen Store
Solutions
Cook's Junction
All in the Kitchen
Bon Cui
Grantfords
Specialty Gourmet Goodies
This is a corporate invention and the same 9-step Davison Inventing Method is used to develop each idea, for idea people who work with us on their ideas or corporations that ask us to invent for them.