Total Tea Infuser
A Better Way to Brew a Cup of Tea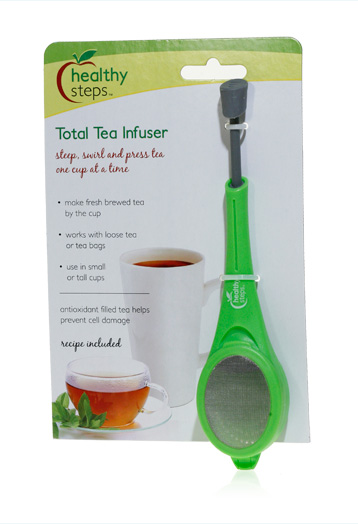 The Problem:
Countless people enjoy drinking tea for the taste and the health benefits. But brewing single cups of tea can be a messy, drippy task, whether with tea bags or loose leaf tea.
Davison's Better Way:
The Healthy Steps Total Tea Infuser makes it easier to brew single cups of tea. The attractive spoon design holds loose leaf or bagged teas so no messy tea leaves are left in the cup. Simply fill the hopper with loose tea or a tea bag, close the hopper, place into a cup of hot water and steep to taste. To release more flavor, swirl, stir or press the plunger. When done steeping, rest the infuser on the edges of the mug to catch the drips. The product is also dishwasher safe for easy clean up!
Featured in the following stores:


Lucky Vitamin
HBees
Delights Vills
Shopping Warehouse
Delice Ville
Remodelr
Plumber Surplus
Outdoor Pros
O4J Offices
Just for Construction
Farm & Home Supply Center
Specialty Gourmet Goodies
Bluebird Gardens
Brookstone
Appeal Deals
The Westview Shop
Kitchen Busy
Give Mart
Mozys
Dollar Days
Amazon.com
Organize.com
Taylor Gifts
Starcrest California
Picnic World
Carol Wright Gifts
Dr. Leonard's
The Home Marketplace
Bon Cui
Grab Cart
Gizar.com
This is a corporate invention and the same 9-step Davison Inventing Method is used to develop each idea, for idea people who work with us on their ideas or corporations that ask us to invent for them.