TaterGator
A Better Way to Peel Veggies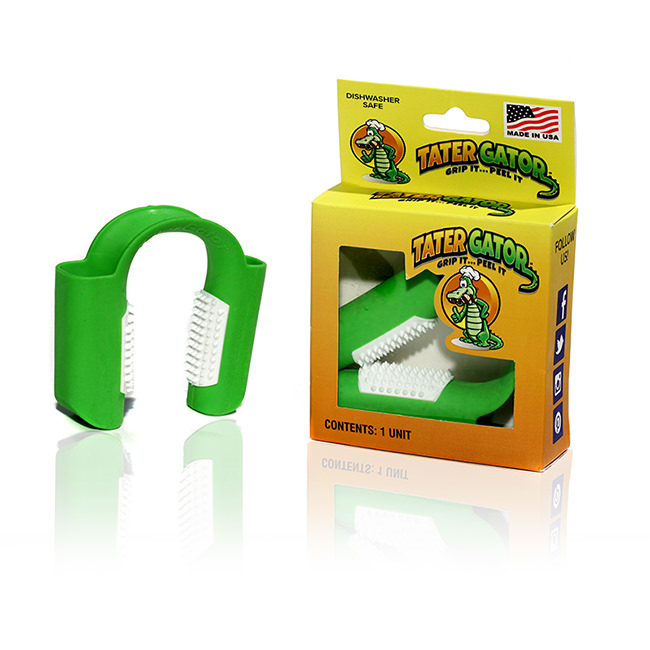 The Problem:
Trish has always enjoyed hosting parties in her home. The love and joy she feels when cooking for her family and friends is like no other. One afternoon, while preparing to host another friends & family gathering, she began to prep her veggies for the oven. While attempting to peel potatoes (a task she had done thousands of times before) she realized how difficult it truly is to hold and peel potatoes. Standing in her kitchen holding a mangled potato in her nicked and scraped hands, she thought to herself, "Why hasn't anyone invented something to hold potatoes and other veggies securely?" And then, the ah-ha moment!
Right there, at that moment, while standing over the sink in her kitchen, the TaterGator was born! Trish knew two things. First, she needed to get the idea out of her head and into her nicked hands. Second, she and her family would be eating a lot of potatoes, carrots and other veggies!
Davison's Better Way:
During her inventing journey, Trish worked with several companies but ultimately found the best fit with Davison. Within a few short months after submitting her product to Davison, Trish's TaterGator had new packaging and a licensing deal, which led to her product selling on Amazon.
Featured in the following stores:

This client has not realized a profit on this product. A typical project does not get a royalty agreement, sell in stores or generate a profit.