Pasta Basket
A Better Way To Make Healthy Pasta Portions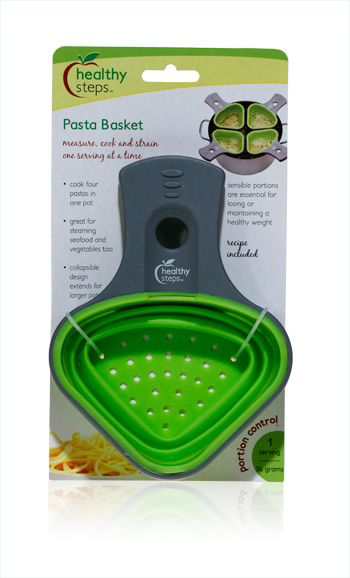 The Problem:
People don't usually know how to portion their food in healthy amounts when cooking and serving. Cooking pasta typically means boiling a large pot of water and only making one type of pasta; normally more than is needed.
Davison's Better Way:
The Healthy Steps Pasta Basket makes it easier to eat healthy. The Pasta Basket collapses for smaller pots and extends for larger pots. Never again cook more pasta than you need – the basket measures one serving and works with any type of pasta! The silicone basket provides a contained cooking space and up to four baskets fit into one pot, so it's great for restaurant style choices right at home.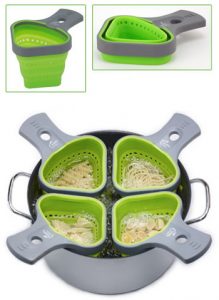 Featured in the following stores:

Amazon.com
Cooking.com
Taylor Gifts
Organize.com
Lucky Vitamin
Casa.com
Carol Wright Gifts
Dr. Leonards
Delights Ville
Shopping Warehouse
Buy.com
Pricefalls
Delice Ville
Newegg
Remodelr
Outdoor Pros.com
Dollar Days
The Westview Shop
Bed Bath & Beyond
Picnic World
Kitchen Nova
Giant
The Westview Shop
Kitchen Cookware.ie
Plumber Surplus
Big Kitchen
River Road
Home Product Sales
HBees
Kitchen Busy
Just For Camping
Givemart.org
Micha Kitchen
Buyzone
Antares Pro
Joss and Main
Gizar.com
Chef Central
Bon Cui
Gracious Home
Grab Cart
Starcrest of California
Lakeland Limited
Kitchens on the Square
Specialty Gourmet Goodies
Yohiba
Davison conceived the Healthy Steps product line in collaboration with Jokari Corporation for which we receive a royalty.