Packet Rack
A Better Way to Hang Seasoning Packets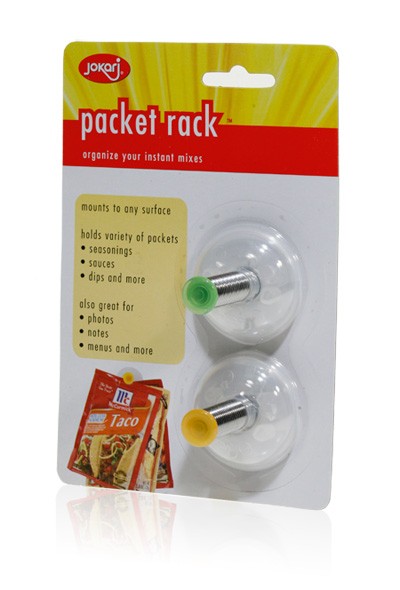 The Problem:
Just about every kitchen has multiple loose packets of seasoning, gravy and other mixes scattered throughout cabinets and drawers. Keeping all the different packets neat, organized and handy can be a very difficult and frustrating task.
Davison's Better Way:
We created the Packet Rack to make organizing gravy and seasoning packets easy. To use, simply push up slightly on the bottom of the spring, insert packet between the coils as they spread apart, then release; the spring closes tightly, holding the packet securely in place. To remove a packet, simply pull downward with a tug. The unit mounts to the inside of a cabinet with the included self-stick mounting tape or screws. A built-in magnet also holds the unit firmly in place on a refrigerator, where it can be used to hold notes, photos and other lightweight items. The product is sold in a two-pack for added value.
Featured in the following stores:


Sears
Barnes and Noble
Amazon.com
Shopping Warehouse
Buy
Comfort Market
Organize.com
Menards
Starcrest of California
Organize World
Comfort Market
Chef Central
Learning And Education
Kitchen Collection
Grab Cart
Picnic World
This is a corporate invention and the same 9-step Davison Inventing Method is used to develop each idea, for idea people who work with us on their ideas or corporations that ask us to invent for them.