TRU-ICE
A Better Way to Cool Aches and Pains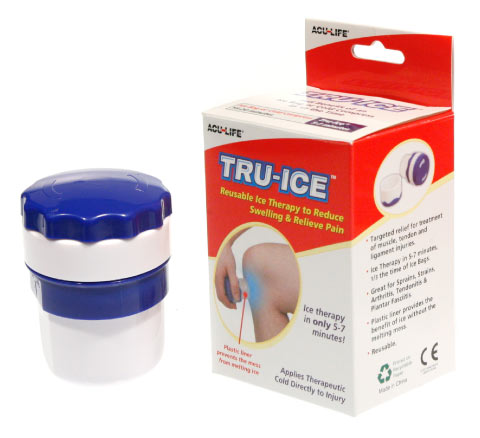 The Problem:
While there are many freezeable gel packs on the market to relieve the swelling and pain of injuries, they often do not provide enough cooling therapy and can take a long time to be effective. Ice packs work better, but they are a hassle to fill and can be messy, especially when the ice melts and the bag leaks.
Davison's Better Way:
TRU-ICE provides complete ice massage therapy in five to seven minutes, one third the time of ice bags. The reusable, leak-proof product offers targeted cold relief wherever needed to reduce swelling and relieve the pain of muscle injuries, as well as sprains, arthritis and tendonitis. The durable unit is easy to hold and is designed to keep ice on an injury, even after the ice starts to melt.
Featured in the following stores:
Health Enterprises
MFASCO Health + Safety
Medco School First Aid
The Medical House
ApriaDirect
Health and Care
Medical Factory Outlet
Home Health Medical
United Medical Supplies
Support Plus Medical
My MediMart
Invacare Supply
Medway Mobility
Office Depot
Mobility & Bathroom Solutions
Walgreens
Myers Drug Store
MTS Medical Supply
Family Drug Store Inc.
Fitzz.com
Valley Home Medical Supply
Safety ED
Mobility Wheels
Diatic Medical
Racquet Depot
East Medics
OJ Medical
4MD Medical Solutions
Cascade Healthcare Solutions
Patients Medical
Westons Internet
Jansen Medical Supply
Meridian At Home Store
Henry Ford Health Products
JRS Medical
Mitchel Home Medical
hardtofindbrands.com
Home Health SuperStore.com
Unbeatable Sale
Vitality Medical
Open Tip
Learning and Education (Underbid marketplace)
Medworld Store
Essential Home Medical
EZ Med Shop
National Med Supplies
Allegro Medical
Health MediMart
Wheelchairs Plus
Medical Supplies of Florida
Xpress Home Medical
Drugs Depot
Elite Healthcare
Town & Country Homecare Mobility
Max Wellness
Fletcher's Medical Supplies
Pharmacy Express & Medical Devices
MyMediMart
Direct Buy Medical
The Medical Supply Group
Vital Medical Oxygen & Supplies
Kohll's Medical Supply
Marble Med Supplies
Med on the Go
Better Living Now
Rose City Drugs
Home Health Wares
Popular Braces
Rehab Solutions
Inc.
Meridian At Home Store
Stay Dry Products
Sam Supply
Fisher Products
Convenient Medical Supplies
ATC Medical
All Time Medical
Express Medsupplies
Wireless Thermometers
MASH
Valenok
Med Supplies Online
Medical Supply Sale
AuxiTech DME & Supply
Online Medical Supplies
Mar-J Medical Supply Inc.
MedicalSupplies4All.com
eGeneralMedical.com
DMEsupplygroup.com
DrugSupplyStore.com
wheelchairmedical.com
FiveStar Home Medical Supplies
Kerr Drug
AmberCity.com
The Medical Supply Depot.com
RehabMart.com
The Homecare Warehouse
Parentgiving
The Medical Supply Group
Diabetic Corner
Colonial Medical Assisted Devices
All Med Wholesale
The Medical Supply Company
Mobility Buyer
Jett Medical Company
US Medical Supplies
Medical Supply Corner
National Scrubs
Solent Mobility
Best Buy Medical Supplies
Health Products For You
Mobility Shop Direct
Welcome Mobility
Apria Direct
Total Home Medical
Mobility Smart
Spinal Products
Eden Mobility
This is a corporate invention and the same 9-step Davison Inventing Method is used to develop each idea, for idea people who work with us on their ideas or corporations that ask us to invent for them.