TheraTOES
A Better Way To Sooth Sore Toes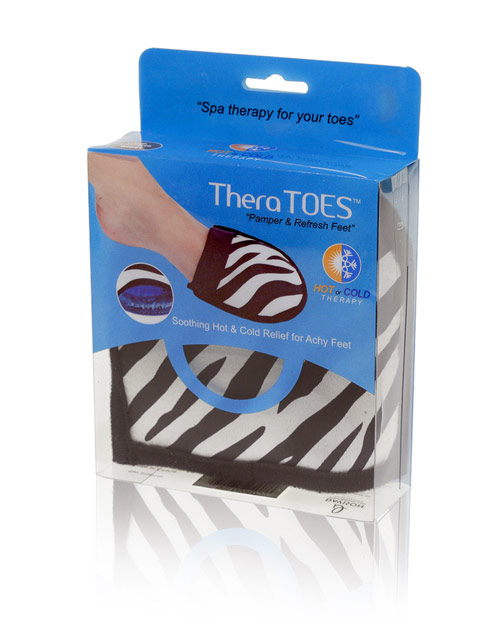 The Problem:
People who spend a lot of time on their feet often suffer from sore and cramped feet and toes. This is particularly true of women who wear high heels. Soaking one's feet in warm or cold water is often impractical and time consuming and may not provide adequate relief, particularly for cramped toes.
Davison's Better Way:
We developed the TheraTOES for people who wanted a better alternative to soaking. The wearable product offers moist heat as well as cooling therapy to soothe sore feet and toes. The gel insert can be chilled or warmed, then placed inside the mini slipper. The user simply slides their foot into the slipper on top of the insert. The cushiony gel delivers continuous soothing relief to cramped and achy feet and toes. Made of soft neoprene, the product fits either foot. One size fits all.
Featured in the following stores:


Safety ED
Amazon
Sears
East Medics
Foot Smart
Feel Good Store
Soy Medical
Collins Medical Equipment
This is a corporate invention and the same 9-step Davison Inventing Method is used to develop each idea, for idea people who work with us on their ideas or corporations that ask us to invent for them.