360 Therapy Back Brace
A Better Way to Provide Back Relief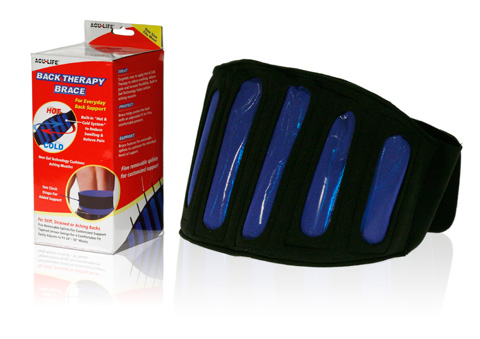 The Problem:
Back strain and injury is a common ailment, especially among individuals who lift heavy objects. A heating pad or ice pack can help reduce swelling and pain, but they limit mobility and are difficult to hold in place. Normal back braces provide support and protect against further strain but they do nothing to soothe aching muscles.
Davison's Better Way:
The Hot / Cold Back Therapy Brace has a built-in therapy system designed to reduce swelling and relieve pain while protecting and supporting the lower back. The brace is freezable or microwaveable with gel technology that offers immediate cooling or heat therapy. Five removable splints and two adjustable cinch straps provide added, customized support and the tapered unisex design ensures a comfortable fit.
Featured in the following stores:

Klingensmith's Drugstore
Amazon.com
Shop360usa.com
Care Pathways
JRS Medical
All Time Medical
Henry Ford Health Products
AUXITech
Max Wellness
Allegro Medical
Fletcher's Medical Supplies
Med on the Go
BackMate
eMed Stores
Diatic Medical Supply
Health Products for You
B & Y Pharma
Better Living Now
Med Supplies Online
The Homecare Warehouse
Home Health Wares
The Medical Supply Group
DME Supply Group
Rose City Drugs
Rehab Solutions
Inc.
Stay Dry Products
Sam Supply
Fisher Products
Rehab Mart
Your Health Supplier
Total Home Medical
This is a corporate invention and the same 9-step Davison Inventing Method is used to develop each idea, for idea people who work with us on their ideas or corporations that ask us to invent for them.