A letter sent to our founder from Josephe Donahue: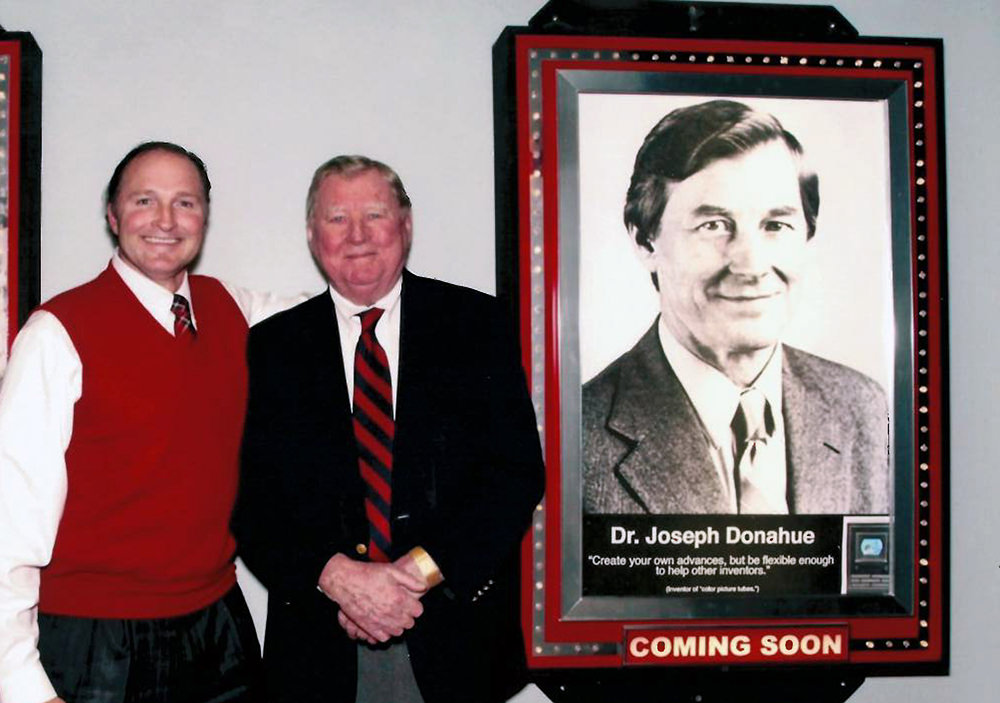 Dear Mr. Davison, You have kindly given me a tour of your operation on a number of occasions over an eight-year period. I was impressed with your modest operation on the first visit when it was located in your grandfather's home. The progress you have made and level of proficiency you have now achieved from that modest start is now beyond imagination. I am not only very impressed but thrilled to witness such a dynamic and constructive organization in action. I have been associated with new technologies all of my professional life. Examples include the beginning of color picture tubes, where I was a key inventor, the transistor, integrated circuits, liquid crystals and high definition television. The enclosed resume provides a little of this history. Because of this background, I feel particularly qualified to assess the creative and productive capability of your organization. You turn out advances and inventions at a prodigious rate that is probably unmatched anywhere in the world. Not only do you create your own advances, but you are flexible enough to help other inventors through the many precarious steps of turning their idea into a reality. Many inventors are not capable of, nor realize the importance of the steps of patent search, patent filing, designing a product that satisfies a need and that is readily manufactured in a cost effective manner, designing functional packaging, producing realistic prototypes of the product and the packaging, and presenting the product to the key people in the commercial world. Your organization is well versed in all of these areas and they provide a very worthwhile service. Probably the most impressive part of your organization is the creative function. They tackle challenges in extremely diverse fields of endeavor. And now, the new workplace wherein the creative process can be conducted in a practical surrounding associated with the end use of the invention. I am sure that no other organization has even dreamed of such a positive working environment. Your facility is truly breathtaking. I feel privileged and proud to have had the opportunity to visit your unbelievable organization. It is a living example of what makes America great. The entrepreneurial spirit and success you have demonstrated is fantastic. Your contributions benefit all of those associated with it. Even the products that don't make it in the marketplace have had a good shot. Please accept my heartiest congratulations on the success you have achieved and on the contributions you are making to our great society. If I were a little younger, I would seriously consider applying for a position in your creative section. Thanks again, and keep up the fabulous work!!! Sincerely, Dr. Joseph Donahue
Credentials
During the early 1950s at RCA, Dr. Donahue was a member of the team that pioneered the development of the first color motion picture tubes. He is the holder of nine patents, one of which is for the method of production of color picture tube screens used worldwide for over 50 years. Dr. Donahue's experience also includes 17 years with RCA Semiconductors where he held positions of Vice President of Europe, Vice President of Integrated Circuits and CEO. In 1977, he joined RCA Consumer Electronics with the overall responsibility for engineering, purchasing, manufacturing and product assurance. Under his direction, the factory in Bloomington, Indiana, was automated and became the largest television receiver manufacturing plant in the world. In 1982, he was named CEO, where he further strengthened RCA market leadership in television receivers, VCRs and camcorders. He was named the 1983 Consumer Electronics Man of the Year by Dealerscope magazine. In the late 1980s, he established an RCA-Thomson office in Washington, D.C., and became highly involved with broadcasters, manufacturers, and the government in the field of digital video technology and high definition television (HDTV). This technology provided the foundation for the Digital Satellite System, the world's first commercial digital television system, introduced by DirecTV in 1994. The Federal Communications Commission (FCC) appointed Dr. Donahue a member of their Advisory Committee on Advanced Television Service. He worked with the other HDTV standard proponents to form the Grand Alliance, which developed the "best of the best" digital HDTV system that has been adopted by the FCC as the HDTV broadcast standard for the United States. He received an Emmy from the Academy of Television Arts and Sciences for his work on the HDTV standard. Commercial broadcast of HDTV by all major networks began in the fall of 1998. Dr. Donahue chaired a worldwide committee which standardized the recording of the digital HDTV signal on VCRs. Based upon his experience with the startup of color television in 1954, he also conceived and led the establishment of the first developmental HDTV station, WHD, at NBC's studio in Washington, D.C., in 1996. The station, a joint project of over 80 broadcasters and manufacturers, established the technical foundation for HDTV broadcast and reception that is now used by commercial HDTV stations. He entered the U.S. Navy upon graduation from high school and rose to officer ranks. He received his B.S., M.S. and Ph.D. degrees in Physical Chemistry from the University of Michigan. While in graduate school, he taught General Chemistry and Physical Chemistry as a teaching fellow and instructor, respectively. During his professional career, Dr. Donahue authored numerous technical and business papers. He has managed businesses with over 24,000 employees and has extensive experience in Europe and the Far East. He was a corporate officer of RCA, GE and Thomson RCA Taiwan, RCA Mexico, RCA Licensing, Crown Wood Products and Anadigics. He is a fellow of the Institute of Electrical and Electronic Engineers and has received the Distinguished Service Award of the Electronics Industry Association. In 2005, he was inducted into the Consumer Electronics Hall of Fame.