Have you seen ABC's Shark Tank?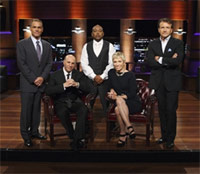 "Shark Tank" is a new show on ABC that features entrepreneurs and inventors. The show gives the selected entrepreneurs a chance to showcase their big idea to five investors, known as "sharks."  If the Sharks approve the idea, they will facilitate the funding needed for the entrepreneur's business. This makes for a very engaging and emotional show, which showcases our favorite people: the creators, inventors, and entrepreneurs.
Lessons Inventors can Learn from "Shark Tank"
The show deals with a lot of the real life issues we face when trying to bring an inventor's idea to market. The first important lesson an inventor can take away is the importance of getting their invention in front of the right people. Secondly, on "Shark Tank" you see the inventors bringing fully developed ideas to present to the Sharks. A sketched drawing or shoddy prototype is unlikely to make it past the Sharks on the show or very far in front of a corporate buyer or investor. The third lesson is that inventing and entrepreneurism have associated risks. Most entrepreneurs will fail, some multiple times. However, if you never pursue your idea in the first place you'll never know if your idea could make it.
How Davison Can make Your Idea "Presentation Ready"
We're a product development company, and our goal is to build each of our clients a working product sample. We have products selling in over 400 stores, and we are able to use our more than 25 years of experience in the industry to build you a presentable prototype complete with packaging design. We can help you get your working product sample in front of corporations. Finally, Davison is made up of inventors and entrepreneurs like you. We love your creative sprit, and we promise to do our best to bring your idea to life. If you have a product idea and are interested in our services, please let us give you a free consultation of your product idea.
Get Started Today – Complete Our Idea Security Agreement »