Licensed Products
Detail Towel
A Better Way to Detail Your Vehicle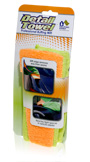 The Problem:
Waxing a vehicle can be a tiresome and laborious chore. It can take hours to buff a vehicle's surface to give it adequate protection and shine. And trying to remove the excess wax from the seams with an ordinary towel can be very difficult.
Davison's Better Way:
We created the Helping Hand Detail Towel to make waxing a vehicle a quicker and easier task. The towel, which has a built-in buffing mitt, makes it easy to buff a vehicle to a brilliant shine. The wide, stiff edge on the towel also makes removing wax from the seams a breeze. The stiff edge also is perfect for cleaning tight spaces in a vehicle's interior. The towel is also machine washable, so it can be used again and again.
Featured in the following stores:
Walmart.com
Faucet Queen
Bed Bath & Beyond (Currently being tested in select locations.)
Other Davison Designed Faucet Queen Products:
This client has not realized a net profit on this product.